Heroes of Telstra!
In 2010 after 4 years of Telstra's broken promises, pathetic workmanship, inept management, and false statements we finally met two people who had the technical skills, the authority and the economic wisdom to run and properly terminate a new network cable thus excising the growing cancer of Telstra's previous shoddy workmanship which had been impacting Fanden and others in our area.
The people in the photograph below are true heroes of Telstra. They have saved their employer from the significant recurring cost of ongoing substandard "repairs" and line outages and they have halted the creeping network deterioration which had followed each wet weather event since early 2006.
They are also heroes at Fanden. They have provided us with a reliable wet weather phone and fax service for the first time in four years.
Indeed, having spoken to MANY people at all levels in Telstra over the last four years, we have formed the opinion that these might be the only people in Telstra who understand that it is simpler and MUCH cheaper to do the job right the first time than it is to do it wrong then wrong again and wrong again, and again, and again, ... every time it rains. Indeed, if the job was done right the first time then the new network cable these fellows ran would not have been required.
If you are a Telstra senior executive reading this and you believe your organisation has a future in copper or fibre networks then you may want to consider setting aside an hour, buying these guys lunch and talking to them about the true state of your network. Considering the parlous state of line maintenance in your organisation you could certainly do a lot worse than asking them to participate in the setting and policing of installation & line maintenance standards at a more senior level.
Frank O'Hare FIEAust, FAIM and alphabet soup.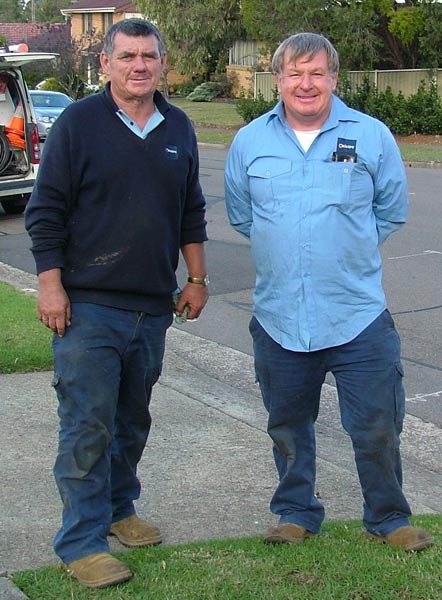 ---
For a bit of history, and to see why we think these guys are heroes, read on below:
---
Telstra Voice Line 30 January 2012: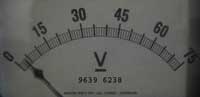 Our voice line had become inoperative with the open circuit (all phones disconnected) voltage measured at our MDF sitting at 4V (should be 53V).
Telstra's contractor attended well before the promised close of business 31 January 2012. He lifted the incoming Telstra line from the "outside" terminal block within the MDF and proved the Telstra line was OK. This meant that his attendance and subsequent repairs were at our cost ($120)..
The fault was subsequently traced to a partial short (124 ohms) caused by a poorly terminated cable on the "inside" terminal block within the MDF..
Please note that we are very happy with the punctuality and professionalism of the Telstra contractor who attended on 30 January 2012. This fault is neither related to the four year tale of woe below nor to the heroic actions of the gentlemen above.
---
The original 4 year tale of woe follows below
---
Telstra's Line Problems continue,
- waiting for a reliable repair since early 2006
IF YOU HAVE HAD PROBLEMS CONTACTING US THEN PLEASE TELL US WHEN YOU GET THROUGH.
WHEN OUR FAX LINE FAILS THEN TRY EMAIL
WHEN OUR PHONE LINE FAILS THEN TRY OUR MOBILE NUMBERS, USE EMAIL OR CALL ON THE AGREED RADIO CHANNELS
1 Feb 2009 there have been two billing cycles since Telstra's promise of free line rental (see below). We are yet to receive that benefit [we never did].
9:20 AM 9 December 2008 - Telstra Melbourne ring to ensure we are happy and getting the best deal with our account. The caller was politely referred to this page after which he put us on hold to "speak to someone". Halfway through his first sentence on returning from hold, the call dropped out (we didn't hang up and are assuming Telstra didn't either - if you are the Telstra caller and are reading this then please try again, possibly after your network has had a chance to dry out from the recent rains.

While we are waiting for his return call we noticed another newspaper article describing the parlous state of Telstra's copper network. That article titled Telstra users left holding exposed lines by Nick Galvin and published by the Sydney Morning Herald on 9 December 2008 states (inter alia): "THOUSANDS of Telstra customers are putting up with crude, temporary phone connections with cables held together by tape and plastic bags and strung along fences, across lawns and through trees. In many cases the unsightly - even dangerous - cables are left in place for months and even years, despite repeated pleas to finish the job by burying them."
NEWS FLASH - Telstra say they will provide one months free line rental on our next telephone account in recognition of their less than satisfactory performance to date. Unfortunately they also advise that they have no intention of correctly repairing this fault prior to the next failure.
SITUATION 6 OCT 2008 we had yet another "temporary" repair which WILL fail due to water ingress. The Telstra contractor (and others before him) have said that our pit is typical of the street. It would cost Telstra less in both time and dollars to properly terminate their cables than to continually attend to failures in the field.
Photos of the new 'temporary repair' made in the afternoon of 6 October 2008



This 'temporary' repair is better than the last which only lasted two months. We expect it to last a lot longer, probably until the February to March seasonal rainfall peak in four to five months (although the older phone terminations within this bag may not have been re-terminated and could fail before then).

Our free offers to terminate these cables for Telstra have been rejected, our free offers to teach their linesman how to terminate these cables have also been rejected as was our free advice re a simple method of creating a more reliable "quick and dirty" "temporary" repair. We have made these offers several times at several levels within Telstra over a period of two and a half years. We now formally withdraw those offers having finally realised that we are already receiving the best third world dry weather phone service Telstra feel it is their duty to provide.
RECENT HISTORY (a selection)
4 OCT 2008 it has been raining and our fax line has failed. This has been reported to both Telstra's Complaints and Investigation unit (message left on their answering machine) and Telstra's business service people on 132000. Once again Telstra have been made aware of the repetitive nature of this fault and the need to actually fix something.
During this call Telstra advised "we do guarantee the restoration of all network faults between the exchange and your primary socket" viz they guarantee they will restore the fault (not the service)! Is this what they meant to say? Was it a Freudian slip? Telstra's actions to date certainly don't preclude either possibility.
A Telstra technical officer then joined the conversation, tested the line, identified the fault and said that a technician will attend between 0800 and 1200 hrs on Tuesday 7 October 2008. We live in hope.
September 2008 Telstra's Complaints and Investigation people address the pedestrian trip hazard by replacing the pit cover broken by them when attending this fault on 23 August 2007. The defective terminations within the torn plastic bag were not addressed. With time and rainfall they WILL fail.
17 August 2008 we are receiving telephone calls from others in a similar situation but have not yet heard from Telstra's C&I cell. That said, Telstra have been in the area conducting works in both adjoining pits since 6 August 2008. Alas the works in at least one of those pits is at risk because the cable placement will not allow the broken lid to be properly replaced (the cables are at risk from pedestrians).
6 August 2008 Jamie of Telstra's complaints unit (ph 1800 629 272) rang to advise that the project would be passed to Telstra's "C&I Cell" for action. He has provided them with a printout of this page and we are to expect a phone call from their Complaints and Investigation people in a few days.
5 August 2008 Telstra's "account representative" and technical support number 132999 were advised that this most recent "temporary" repair is technically deficient and that if this is not addressed then future failure is certain. Googling for "plastic bag" repair telstra on 5 August 2008 provided 3,850 hits (click here to try it today)
Following this repair Telstra advised:

"re Case 129134146 ... ... The fault reported on 04/08/2008 15:28 was resolved on 05/08/2008 10:48. This case is now closed." [alas their bag is not]
4 August 2008 Fault reported to Telstra (again). John in Perth seemed to care more than most he tested the line then took a detailed description of the defect, its location and correct method of repair to forward to their technical staff. We are profoundly happy to have found someone in Telstra who cares and hope he can find another such individual within, or contracted to, his organisation who will be willing to carry out the repair. Good luck John, our hopes are with you.
On 13 February 2008 a Telstra marketing person gave her assurance that she would have the problem fixed and indicated this would happen within a few days. No action yet (this game seems to be played every month or so - there seems little point in logging them all on this page).
On 7 Nov 2007 a Telstra marketing person called to tell us that all lines in the area will be replaced and the service upgraded that week He said our problems should be resolved within two days (viz by 9 Nov 2007). Not only was the "temporary" (sic) repair still in place on 31 Jan 2008 but various news reports of 30 Jan 2008 indicated that such "temporary" repairs are now the normal order of business at Telstra. The ABC quoted Steve Dodd of The Communications Electrical and Plumbing Union (CEPU) as saying that Telstra is using plastic bags to patch up cables damaged through rain or old age. Predictably Sarah McKinnon from Telstra has rejected the union's claims saying "I'm not aware of these claims and there's definitely been no kind of edict from Telstra to fix services in that way".
It is interesting to compare Telstra's 2008 claim to be unaware of the practice with this 2004 speech by Jill Hall M.P Federal Member for Shortland who said:
"I have also been approached by workers who have told me that they do not have the facilities or the equipment to do the job that they are required to do. They have told me about wrapping plastic bags around the joins of wires. That was graphically displayed in the Central Coast Herald. Pictures were placed in that newspaper that demonstrated that this actually happens-that instead of fixing faults and securing wires properly a plastic bag is wrapped around them. I do not think this is good enough and neither do the people in the area, in the electorate that I represent." (link)
If our experience is typical then Fanden finds both Steve Dodd's assertion and Jill Hall's claim very easy to believe.
Interesting links:
Telstra's quick fix line repair is a plastic bag (Daily Telegraph 30 Jan 2008) ABC News report 30 Jan 2008
iServe's comentary 30 Jan 2008 ZDNet's comments 30 Jan 2008 yahoo report 30 Jan 2008
---
please refresh this page for latest updates
---
PREVIOUS HISTORY FROM MAY 2006 TO AUGUST 2007 FOLLOWS
AFTER ONLY 1 YEAR, 2 MONTHS AND 24 DAYS, TELSTRA REPLACED THEIR NON FUNCTIONAL TEMPORARY REPAIR WITH ANOTHER TEMPORARY REPAIR OF THE SAME TYPE!
at 1730 hrs 23 August 2007 a Telstra linesman once again provided a temporary repair. He removed the sheath from the main network cable, withdrew the cores related to our service then re-terminated and wrapped the exposed connections in a plastic bag saying that the entire network cable needs to be replaced and that he would book it for an urgent repair (if this sounds familiar you have probably read the history below)

on closing the pit it was noted that during this recent repair the pit lid had been broken into three pieces only two of which were replaced. This hazard was raised as a concern with the linesman who advised a new lid would be provided when the new pit (which he requested on 30 May 2006) and the new cable (which he will now request) are installed.

we note that water is certain to find its way into the new connection and cause future problems if it is not replaced within a reasonable time frame

at 18:38:29 hrs Telstra sent two text messages advising that faults on our phone and fax lines were "resolved on 23/08/2007 17:31".
We hope this doesn't indicate they have no intention of making a more permanent repair

! [alas it did]
---
everything below this point reflects the situation prior to the latest temporary repair.
It is left on this page as an aid to understanding the history of our Telstra problems.
---
OUR TELSTRA TELEPHONE & FAX LINES ARE STILL UNRELIABLE DUE TO RAIN AND LACK OF CARE:
In the event of worsening telephone problems clients and suppliers who are unable to contact Fanden should try our mobile telephone numbers, use email or call on the agreed radio channels.

IF YOU HAVE HAD PROBLEMS CONTACTING US THEN PLEASE TELL US WHEN YOU GET THROUGH.
NEWS FLASH FROM TELSTRA: at 13:12 hours on Monday 20 August 2007 Telstra advised they would send a technician and rectify the fault by 19:00 hours 21 August 2007.
Nice try Sonya, but alas it just didn't happen. Indeed at 1936 hours 21 August 2007 Telstra advised that, due to a large number of rain related repairs, they could not repair our lines as promised however, the repair is now scheduled for a time they can't specify on Thursday 23 August 2007.
Strangely the display on the mobile phone they rang to pass this advice had its display both inverted and reversed (upside down mirror writing) from the moment the phone began to ring until about 3 minutes after Telstra terminated the call when it spontaneously reverted to normal (photo). Hmmm...
---
ALL LINES WORKED PROPERLY FROM 11:40 hrs on 30 May 2006 TO 7 JUNE 2006
How it all began:
Previously
our telephone lines were only intermittently operable due to
a defective termination external to our premises
as well as the
Telstra database error
which
falsely indicated our telephones had been disconnected
.
29 May 20006 (this log started)
incoming telephone calls are now being diverted to a temporary Optus telephone line so you should now be able to call us normally.
the fax line, albeit also defective both has a higher probability of success and can also be replaced with email hence we have not run another Optus line for that purpose. If you need to send us a fax and cannot get through on the fax line then please call and ask us to put a fax machine on the temporary Optus voice line.
Telstra are currently "rebuilding" our lines at the exchange and plan to investigate the high resistance joint(s) in circuit on 30 May 2006.
Telstra also agree there is a fault within their database system which is causing our lines to be intermittently reported as "not connected" and are passing this part of the investigation to their software team.

dial tone returns albeit with significant noise still on line (we have had better signal to noise ratios on short wave radio during electrical storms)

Telstra advice they will be sending a technician between 0800 and 1200 hrs tomorrow (30/5/2006)
circa 08:40 hrs Telstra rang to advise our 6238 phone line was tested overnight and found OK (it wasn't2). They were not aware that the diversion (placed on the line by Telstra) meant that they were talking to an Optus line.

The person calling had no record of any technician being scheduled to attend but did say that their call would not affect that arrangement

10AM Telstra technician arrives on site and confirms our hypothesis re cause and fault location expediting the works.




phone line is still working via the temporary Optus connection and the fax has also been placed on the Optus line whilst these works progress.

due to extent of water damage (due defective sealing) and collapsed pit a temporary wiring repair using an old plastic bag to keep water out has been completed.
The technician has said that the entire pit and termination area will be replaced within 6 months or the problem will reoccur.

---
1. Time zone Kilo is East Australian Standard Time (viz: UTC + 10 hours) [goto top]
2. Line Voltage at exchange = 53 Volts. We measure line Voltage here = 41.6 Volts with significant noise on line (we suspect a poor joint plus water in a pit).